Our aim is to provide you with clear, independent and value-add advice. We will always be focused on finding the optimum solution for you and seek to become a seamless extension of your team
Our Client Testimonials
"Brookland have always provided us with clear and valuable advice and have outperformed on every mandate"  
"Entrepreneurial yet highly disciplined and tenacious at delivering results. They sourced, structured and financed one of our most profitable real estate acquisitions. They think strategically and commercially and understand our priorities."
"Brookland punches significantly above its weight in a market crowded by larger players and its unique capabilities are well recognised. We have engaged them over the last 10 years on some of the most difficult restructurings and sales processes in the European real estate debt markets and they have always managed to deliver."
"We have worked with Brookland for many years on a number of transactions. They are excellent. Their knowledge of real estate debt is unique for an adviser. They offer a great balance of technical expertise and commerciality and with their hands-on approach are very effective at managing transactions to a successful conclusion."
"Brookland act with honour and integrity and have always delivered on what they say they will do. They understand the meaning of "relationship" and truly act as our partner."
Our Awards
Winner
"Debt Advisor of the Year (Development Financing): UK" 2020
Runner Up
"Debt Advisor of the Year (Investment Financing): Continental Europe" 2020
Winner
"Restructuring Deal of the Year" 2019 - £2.2bn General Healthcare Group/ BMI Healthcare
Winner
"Debt Advisor of the Year: UK" 2019
Winner
"Europe High-Yield Bond of the Year" 2019 – Pinewood £550m bond
Winner
"Debt Advisor of the Year in the UK and Ireland" 2018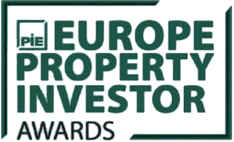 Shortlist
"Advisory Firm of the Year" 2017 and 2018
Runner Up
"European Debt Advisor of the Year" 2016
Winner
"Out of Court Restructuring of the Year 2015" – £1.6bn General Healthcare Group
Winner
"European Debt Workout Advisor of the Year" 2014
Top 10
Financial advisers globally / EMEA for restructurings across all industry sectors in 2012 / H1 2013 (despite focusing solely on European real estate)
Winner
The Banker "Deals of the Year" 2013 – €4.3bn Deutsche Annington GRAND (Vonovia)
Finalist
Twice achieved Finalist status for the "Newcomer of the Year" at the industry leading Property Week Awards in 2011 and 2012
Top 5
Adviser for German based financial restructurings, 2010 Debtwire league tables
Winner
"Debt Advisor of the Year (Investment Financing): UK" 2021